Have you ever heard of a comic horror movie which has equally intense measures of horror as well as comedy seamlessly blended together with a powerful social message to boot? My query generates from a watcher's experience. I have mostly seen comic horror movies getting stripped down to such pathetic level that they neither remain horrifying nor comical. In contrast, here we have an example which in the beginning of the narrative itself flaunts a disclaimer that it is based on a ridiculous phenomenon. Now how close the ridiculous is to reality it is for the audience to decide. Or does the ridiculous ever boast of realism? That is another line of never ending debate.
Before I talk more about the movie, let me just confess something ludicrous that I realized about myself while watching it. I reiterate I am no longer a PVR person. But I have this very odd relationship with abstraction. Whatever is abstract or borders on the surreal always holds great attraction for me so much so that it becomes irresistible, notwithstanding the sleepless nights later.
It is watching the trailer of the movie Stree(with the tagline Ab Mard Ko Dard Hoga……….corny, you've said it!) that I first felt a great urge to watch it and that too in the PVR for very simple reasons. Firstly, the content seemed different. Secondly, I respect Rajkumar Rao's genre of acting. Yes, it is a genre in itself which more and more good and sensible actors are thankfully subscribing to. Thirdly and most importantly, the effectiveness of a ghost story deserves better mode of viewing. Hence, the unusual and unplanned visit to the PVR.
Panning back to Stree, as it should be, a ghost story needs a fitting backdrop. And what best than a small town of Chanderi with a Puraanee Khandar of a haveli overlooking it. Just perfect! A small town with their indigenous values, ethnicity, dialect, social mores and behavioural culture add authenticity to the theme. More than perfect, isn't it?
Here is Chanderi bitten by the female ghost bug who pays an annual visit to the town, during the Pujas, to kidnap its menfolk who are never returned to tell what happened with them. What's left behind are the clothes they are last seen wearing. Interesting plot!
Now who plays the savior of the ailing town? The only son of the local tailor(Atul Srivastav) who thinks his son, Vicky(Rajkumar Rao) is gifted with magical sartorial powers. His measuring eyes does the work of the inch tape and computerized head stores all the measurements. And his fingers….Voila!  No wonder the flock of ladies queuing outside his shop! No he is not the Roadside Romeo kind. He is  just an earthy, nice-hearted small towner as his friends, Bittoo(Aparshakti Khurana) and Jenaa(Abhishek Chatterjee) are.
It's the Puja time. And we have the local bookshop owner Rudra(Pankaj Tripathi) warning the boys to be cautious while having their share of masti because it's the time when Stree pays her yearly visit to the town. Stree is none other than Chanderi's(in)famous Churail. It is also the time when Vicky often meets a mysterious girl(Shraddha Kapoor) who asks him to stitch a dress and collect a few unusual items for her.
The narrative hereon efficiently wriggles through goosebumpy, curvaceous trails.  Jenaa along with twenty other men are hijacked by the churail! It is to bring a spooked Jenaa back to normalcy from the clutches of the ghost who even after his return still controls his mind and to save the town from getting virtually bereft of male population that Vicky and Bittoo embark on a deadly mission to track the ghost and render her powerless. They are aided by Rudra and the nameless girl who confesses that she too is on the same mission because she has also lost her dear one to the wrath of the churail. It is from then onwards a hair raising rollercoaster ride which is as edgy as howlarious.
The edge of the seat narration by director Amar Kaushik does justice to the intriguing story. The foursome of Rajkumar Rao, Aparshakti Khurana, Abhishek Chatterjee and Pankaj Tripathi  carry the entire film on their able shoulders. Shraddha Kapoor is the right choice baby…Aha! Ketan Sodha's background scores, Amalendu Chaudhary's cinematography and Hemanti Sarkar's editing go hand in hand to render the experience spookier.
The small town has grown in character, content and form in today's low and middle budget cinema which have also proven to be big revenue grossers and steady competition to big banners and mega movies. The face of Incredible India is fast changing. Migrants from small towns to Metros have added substantially to the workforce and contributing to the GDP. Urbanization has acquired a new dimension on account of this migration.
Moreover, the elevation of a one-time- chaiwallah to premiership of this vast subcontinent has proved that the aspirations of the small towners are no more laughable. They are achievable.  And that has risen hopes in millions of hearts. India is happening.
It would be myopic of Bollywood not to recognize the worth and power of the small town at this juncture. The small towns are the cauldrons of curious tales. But they are also caught in the fast track. They too are transitioning. So, we find more and more films based on small towns, like Dum Lagaa  Ke Haisha and Bareilly Ki Barfi, because they do and they too have not one but many stories to share which are highly relatable and very close, if not synonymous, to reality. Their way of looking at life itself is something which is not innovated but our own homegrown. And what is homegrown does not require to be sold with catchy punch lines or added frills. Their salability is certain.
Thus Sumit Arora's dialogues have the Cineplex roaring with laughter. Raj Kumar Rao's spontaneity makes him hugely endearing. The characters of Bittoo, Jenaa and Rudra are no more alien. They are just one of the flavours of the cosmopolitan delicacy called India.
Coming to the social cause for which Stree fights. Its nothing but woman empowerment, to put it simplistically, but just said in a different tone and language. Therefore, from the slogan of O Stree Kal Aana, in the beginning of the narrative, it is  O Stree Raksha Karna, by the end! I am sure an O Stree  encore is in the offing.
IMDB rates  Stree 8.5 out of 10. I would recommend it to all. Never mind the intermittent gasps, the shivers and the startles sprucing it all up. Yet it is immensely watchable! Hugely entertaining! Definitely mainstream! A bold attempt at experimenting with something so implausible that it becomes possible with a strong whiff of currency and urgency! Unbelievable…!
Go watch it for the sake of the goosebumps…at least.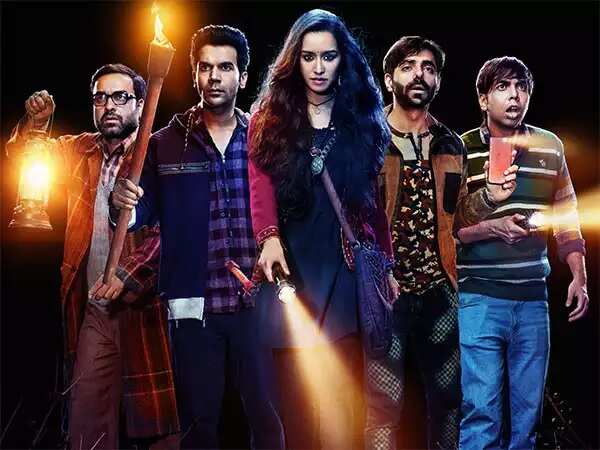 (All Pics from Google)
This Review can also be read on Mouthshut.com